Recipes
Baked Oysters
Ingredients
1/4 Pound of Butter
2 cups of Celery
1 Onion - Chopped Fine
1 pint of Oysters
4 Eggs; hard-boiled - grated
2 cups of toasted bread crumbs
1 cup of Oyster Juice or Water
Parsley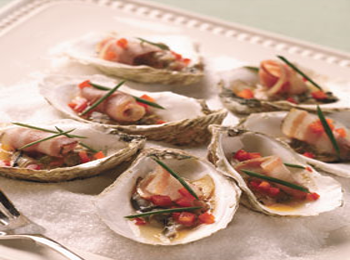 ---
Instructions for Preparation
Melt butter and add onion and celery.
Cook on a slow fire until tender.
Add oysters that have been cut up and a little oyster juice.
Cook for about 5 minutes until Oysters curl.
Take off of fire and mix with rolled toasted bread crumbs, grated eggs, and parsley to season.
Add salt, pepper, and dapen with oyster juice or water.
Put into Oyster Shells or Greased Pyrex dish; sprinkle cracker crumbs on top and lots of butter.
Bake at 350F for about 20 minutes.
Oyster Rockefeller
Ingredients
3 Tablespoons of Butter
1/2 10 ounce package of frozen chopped-spinach, slightly thawed
1 Tablespoon of instant minced onion
1 Tablespoon of chopped parsley
1 bay leaf, finely crumbled
1/2 Teaspoon of Salt
Dash of Cayenne Pepper, Hot Pepper Sauce, or Anisette
1/4 cup of dried bread crumbs
Rock salt (optional)
18 large or 24 small Oysters on the half shell
2 diced bacon slices
Grated Parmesan cheese (optional)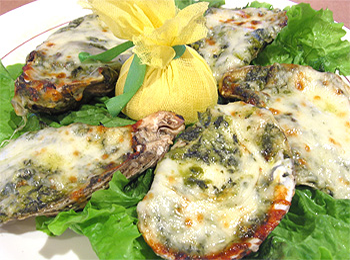 ---
Instructions for Preparation
30 minutes before serving: Preheat the oven to 425F. In a small saucepan over medium heat, mix in melted butter, spinach, onion, parsley, bay leaf, salt and cyan. Stirring occasionally, until spinach is heated thoroughly. Toss in bread crumbs; set aside.
If you like, place enough rock salt in a large shallow baking pan to prevent the oysters from tipping over. Place the Oysters in the baking pan and spook on the spinach mixture. Sprinkle with bacon and cheese. Bake for 10 Minutes or until the bacon is crisp.
Serve with Oyster forks. Makes 6 First Course servings.
Scalloped Oysters
Ingredients
1/3 cup of butter
1 and a half cup of finely crushed saltines
1 pint of shucked "standard" Oysters
1/4 cup of half and half
3/4 teaspoon of salt
1/8 teaspoon of pepper
1/2 teaspoon of Worcehstershire Sauce
2 tablespoons of chopped parsley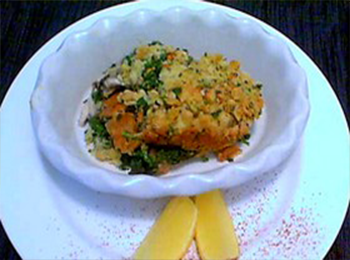 ---
Instructions for Preparation
40 Minutes Before Serving: Preheat oven to 400F. In 1 quart saucepan over low hear, mix in butter and stir saltines until well mixed. In 10" by 6" baking dish, arrange half of saltine mixture. Top with undrained oysters.
In a small bowl, mix half-and-half, salt, pepper,and Worcestershire sauce and pour over the oysters. Sprinkle top with parsley, then with the remaining saltine mixture. Bake for 02 to 25 minutes until lightly browned and bubbly. Makes 4 servings.
SCALLOPED OYSTERS AND CORN: Prepare as above but sprinkle 1/2 cup of grated cheese over the first layer of crumbs; top it with oysters then with one 12-ounce can of whole-kernel corn, drained.
Oyster Cucumber
Ingredients
1 box of whole black peppercorns (for garnish)
1 box of kosher salt (for garnish)
8 ounces of seaweed (for garnish)
24 small oysters, shells scrubbed
1 seedless gourmet cucumber
4 ounces (1 stick) of cold, unsalted butter, cut into pieces
Salt and pepper
1/4 Lemon
3 large shallots, peeled and finely diced
3/4 cup of dry white wine
1 and a half ounces of caviar, osetra preferred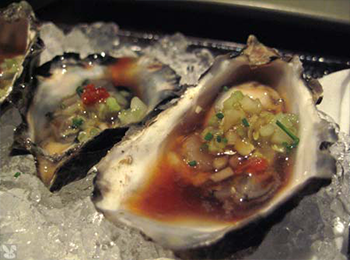 ---